12 Quirky Melbourne Gifts you can find from US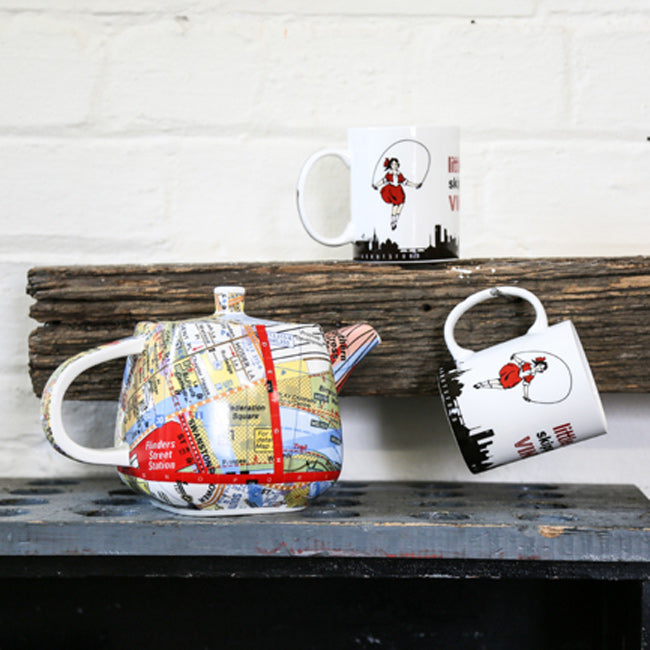 Ok, we get it. Not everyone is from Melbourne and we love other States too of Australia too. I mean the Opera House in Sydney is just an icon in itself and who can forget how damn sunny and cool Brisbane is? We can go on about the other States but we are from Melbourne and we just wanna spread the love a bit of our great city. We want to give you gifts that tell you a little bit about our us because we just want you to have a really great time here. Or maybe we just want to remind ourselves about this city and have a few iconic pieces in our own home. Whatever the reason or need to gift - we have shared our Top 12 Quirky Gifts from US about Melbourne with you.
Loved for its function as much as its form, the Nylex sign proves you don't necessarily have to be beautiful to be admired. We don' t have many of these beauties left because they have been around for awhile so get in quick to put a Nylex up on your wall.
These pretty stylish wood coasters are screen printed on MDF wood. We all know that Melbournians fancy a coffee or a glass of wine at any time so keep these set of 4 coasters handy for when your mates come over. They look cool on any coffee table and make a great gift for someone hard to buy for too! 
If you were born in Melbourne does that automatically make you coffee snob? Have you ever considered what pressure the espresso machine is set to? Or if those beans are single origin? Melbourne's coffee culture is renowned and has even created icons of its own, Pellegrini's for example. We don't know if Melbourne has the best coffee in the world but we do know it has some of the most enthusiastic coffee drinkers in the world. So sit back, grab your paper and enjoy your morning latte. You deserve it.
$2.50 was expensive for a map book when the first edition of the Melway was released in 1966. And 39 editions later, as Melbourne has continued its sprawl, the Melway has grown right along with it –still the most popular map book on the market. Dubbed "the Melways" by the Melbournians who use them, somehow these books have made it into the glove box, boot or backseat of almost every car in the city. Spot more icons at 44 C10 MCG, 43 H9 Flinders Street, 44 D12 Nylex Sign and 44 H7 Skipping Girl sign.
Spruce up your fridge with our Melbourne Iconic Street Signs magnet set. Or create handy reminders, shopping lists and fun messages by using magnets to hold up your notes. This magnet set has over 14 magnetic push out shapes - featuring Flinders Street, Lygon Street, Chapel Street, Brunswick Street and even Ramsay Street signage. These magnet sets make great gifts too and easy to post overseas to people missing home.
Nothing is more Melbourne than a tram. So why not make the journey a bit more special with these over-the-top sequin purses. These gorgeous little purses can fit all your little bits and pieces including your MYKI card - all looking fabulous and very glamorous at the same time.
 After lighting up Victoria Street for over seventy years Little Audrey is shown here skipping in front of Melbourne's skyline. Each mug has an amazing overall print of the Melbourne skyline and the iconic Skipping Girl - including the handle. 
Stack, count, build, piece-together then knock it all down; its playtime with the places you love.These 12 solid-wood blocks will keep your toddler amused by counting, sorting, and just plain old fashioned stacking fun. Our blocks include a classic assortment of familiar objects from a Melbourne landscape on one side and numbers for counting on the other side. Children will be wrapped up in Melbourne's iconic charm as they start to match, sequence and sort the pictures.
Remember the days when toys were just made of old fashioned wood and did not have flashing lights or make loud noises? Or how much easier it was not having to constantly ask your mum or dad to keep changing the batteries in your toys? This iconic wooden tram needs no batteries, has no flashing lights, no loud noises and no plastic. However it does provide endless opportunity to use real old fashioned imagination.
Don't get caught out on a rainy day without one of our uber cool looking umbrellas. Keep one handy in the car or at home and stay dry when it rains. These umbrellas are black on the outside and match with any outfit that you may be wearing - and have a Melway map print on the inside. You almost want it to rain just so you can see the design. We don't however suggest that you use your map for street finding when in use. They are big enough to also cover a friend too - if you snug in tight. So let rain, let it rain because the old man is snoring.
A tram, a footy or even the MCG, these are all things that remind us of Melbourne and remain icons of the city we love. These wooden threading blocks are a classic learning toy that will build fine motor skills and eye-hand coordination as well as teach your kiddies what the Melbourne classics are. However your child decides to play there is bound to be a lot of just simple fun and a classic toy reinvented to last for generations to come.
Writing a card might seem a little bit old school now but they are the perfect way to wish your friends and family from near and far best wishes for any occasion. Send birthday wishes, Fathers Day Happiness, Merry Chrissie Joy or just General Love with our new range of gorgeous cards & envelopes. And because we like to be just that little bit different and give you something more - each of these card & envelope packs come with a thin wooden printed icon on the front of the card that can be used again by the receiver of your card. Nice one. We have carefully added a little hole on the top of each of these wooden pieces so that it can be used as a decoration, or a gift tag on their next gift. Now that is what we call recycling in a nice kind of way.