Fun craft activities with our friends from 👀@seemakeplay!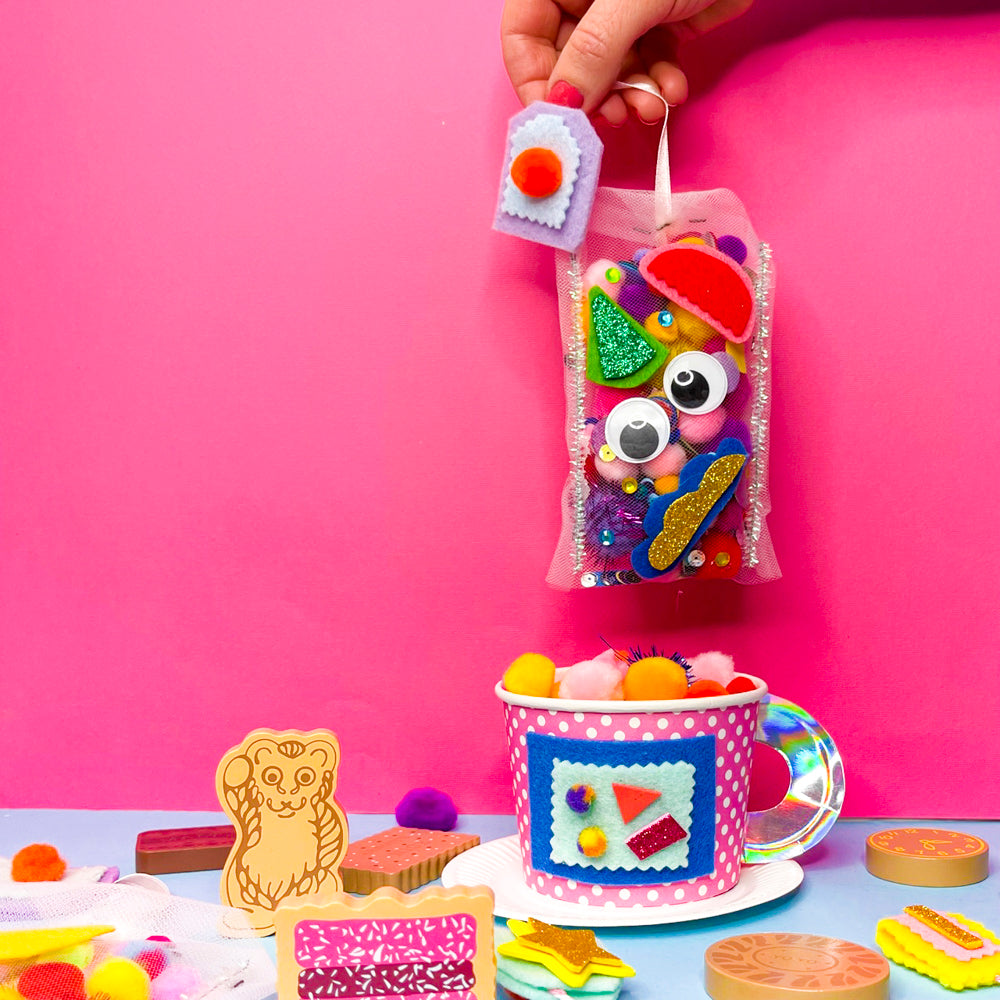 This week we have some exciting make-at-home activities from our wonderful Melbourne crafting friends at See Make Play. We know many of you are stuck in lockdown and may be looking for some simple at-home kids activities to help pass the time and keep everyone entertained. Check out the super cute and sparkly 'craft-licious tea bags'. Make some really unique and yummy tea for your next indoor tea party. And just incase you're not the crafting type, they have put together some simple steps and ideas to help get you inspired. Read below for all the details...
These look so much fun to make and you don't even have to sew anything! We love our new friends at @seemakeplay and it's been so nice to collaborate with these two lovely ladies. We have been admiring their work for some time now and we reached out just recently and got in contact (I don't think mobile phone are banned just yet and we don't even have to wear a mask when talking through a phone!). We have been sharing virtual hugs online with Francesca & Nickki ever since we met them and they have inspired us to get create again! We can still reach out and connect with new friends even if only have a 5km limit here in Melbourne!
Please tag us at #makemeiconiccraft so we can see all the amazing things you have created! We would love to see what you can make.
1. What you will need:
- Download our Template (see link above)
- Mesh or see through fabric
- Scissors
- Stapler
- Glue
Goodies from your craft stash, for example:
- Ribbon
- Pom poms
- Confetti
- Sequins
- Googley eyes
- Sparkly craft foam
- Assorted coloured felt
- Gem stickers
- Pipe cleaner
2. Cut out your tea bag template. Fold your fabric in half and place your tea bag template along the fold line of the fabric.
3. Pin your template into position and cut out fabric.
4. Fold edges over once and staple together, leave the top open.
5. Fill your tea bag with goodies from your craft stash, such as pom poms, sequins, confetti etc.
6. Create your tea bag corner folds by folding each corner in towards the center of your tea bag.
7. Secure by folding the top down and staple.
8. Cut out a piece of ribbon roughly 10cm long and staple to the centre of your tea bag.
9. Cut out your tea bag tag template.
Place your template on a piece of felt and cut out your tag.
10. Staple your tag to the other end of the ribbon and decorate.
11. Decorate your tea bag using the rest of your crafty goodies.
These girls are so talented! Not only do they have their own craft kits that you can purchase online but they also host creative workshops for children and adults across Australia! Wow weeeeeee! Some of their clients are Chanel 9, Westfield and Royal Children's Hospital just to name a few!