FREE shipping over $130. Express Shipping Available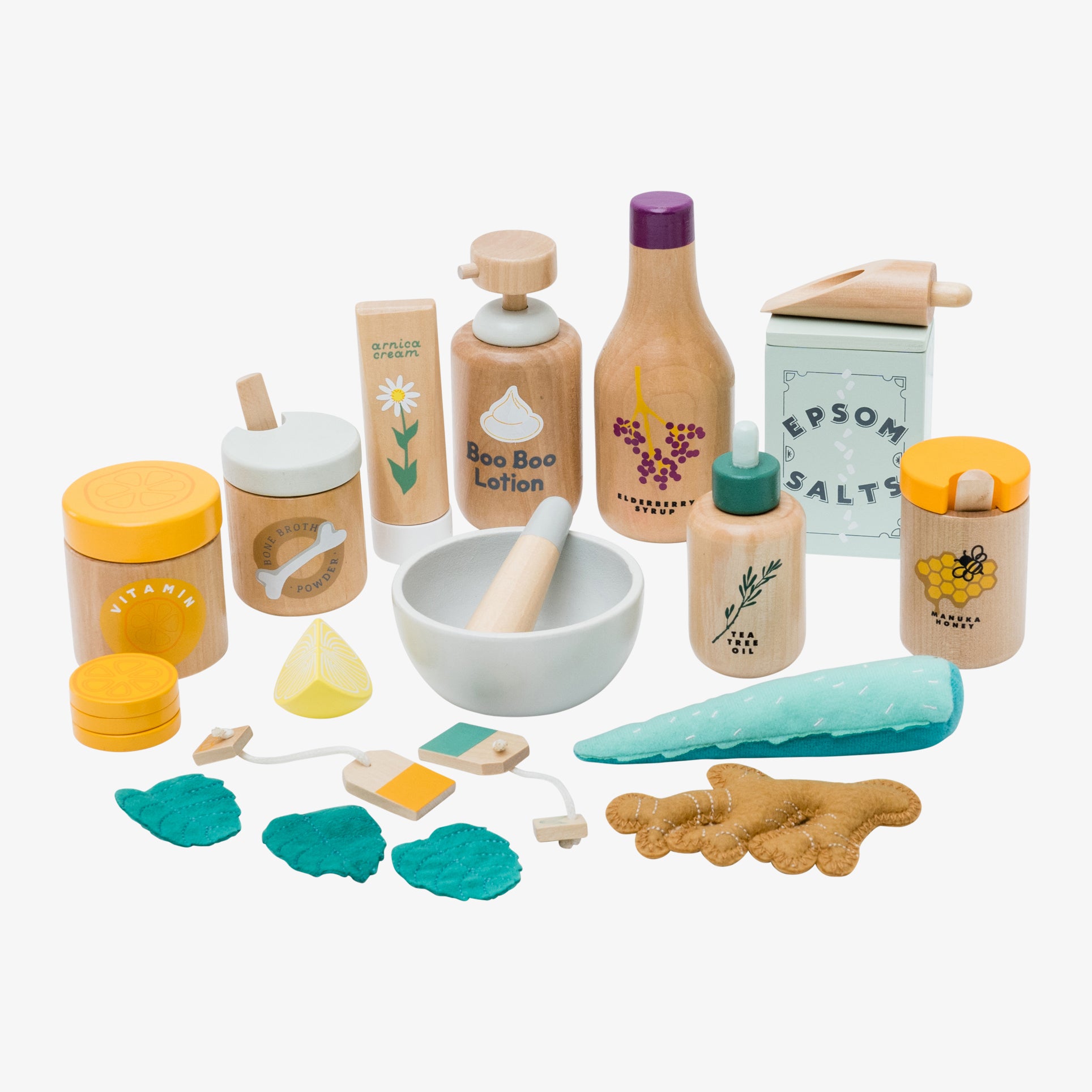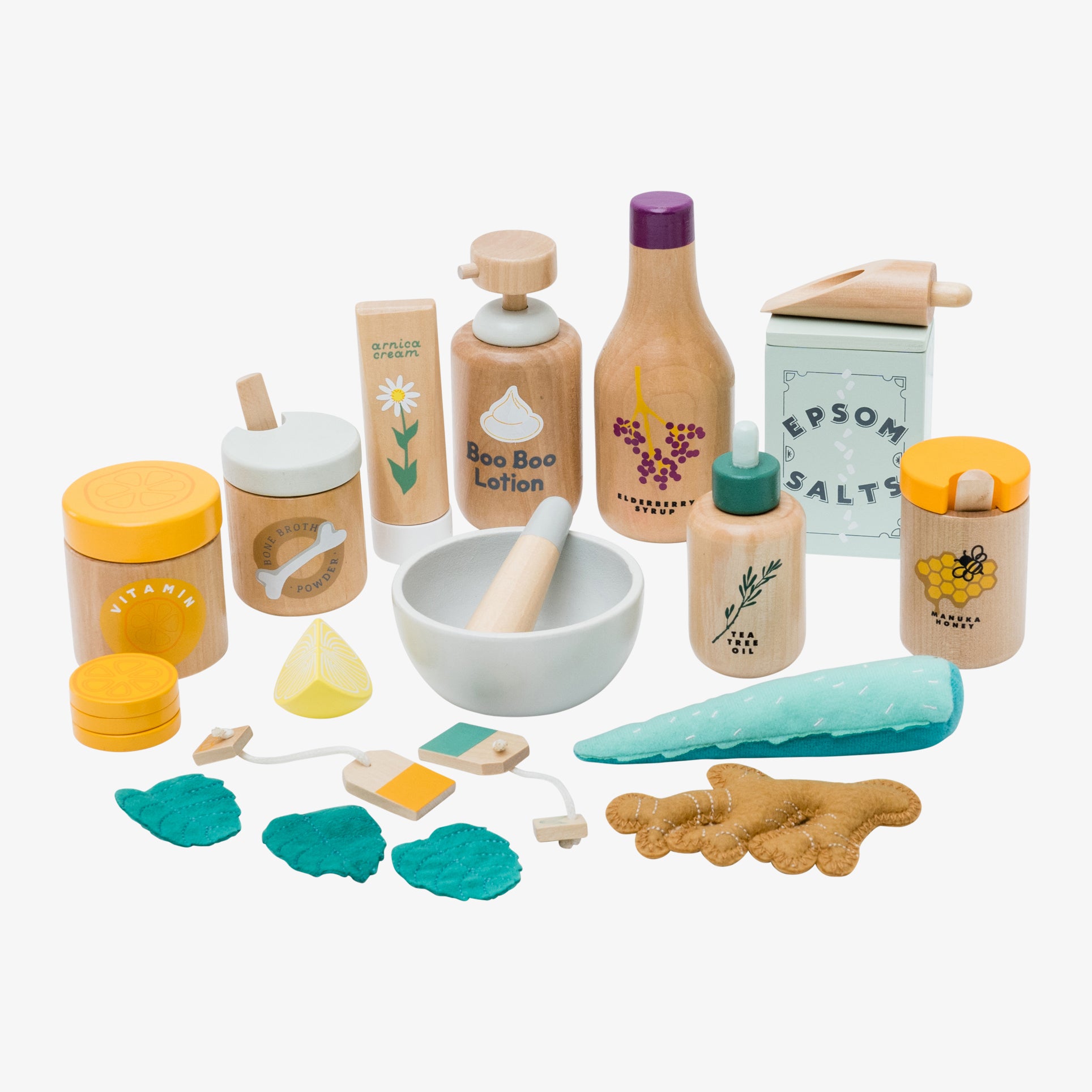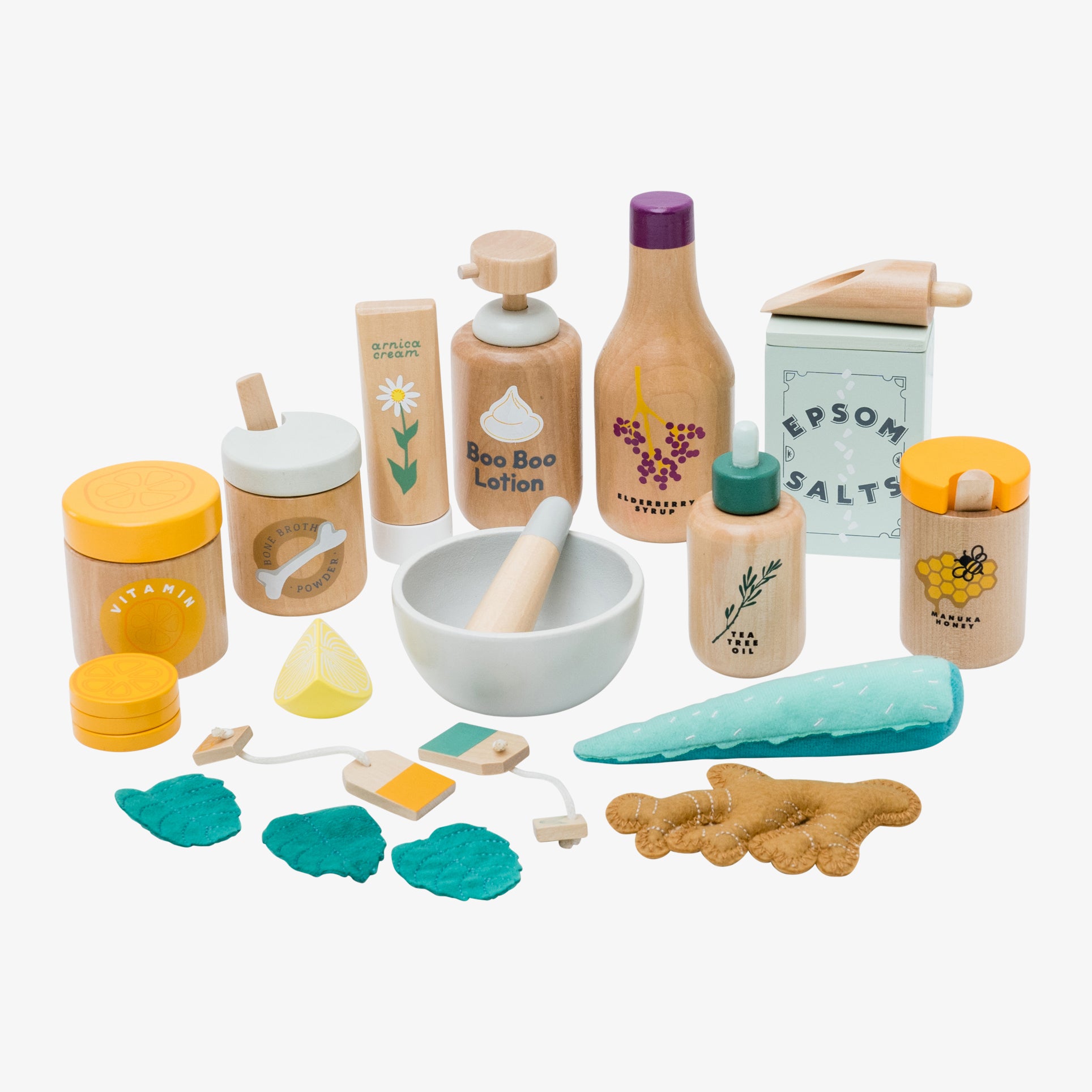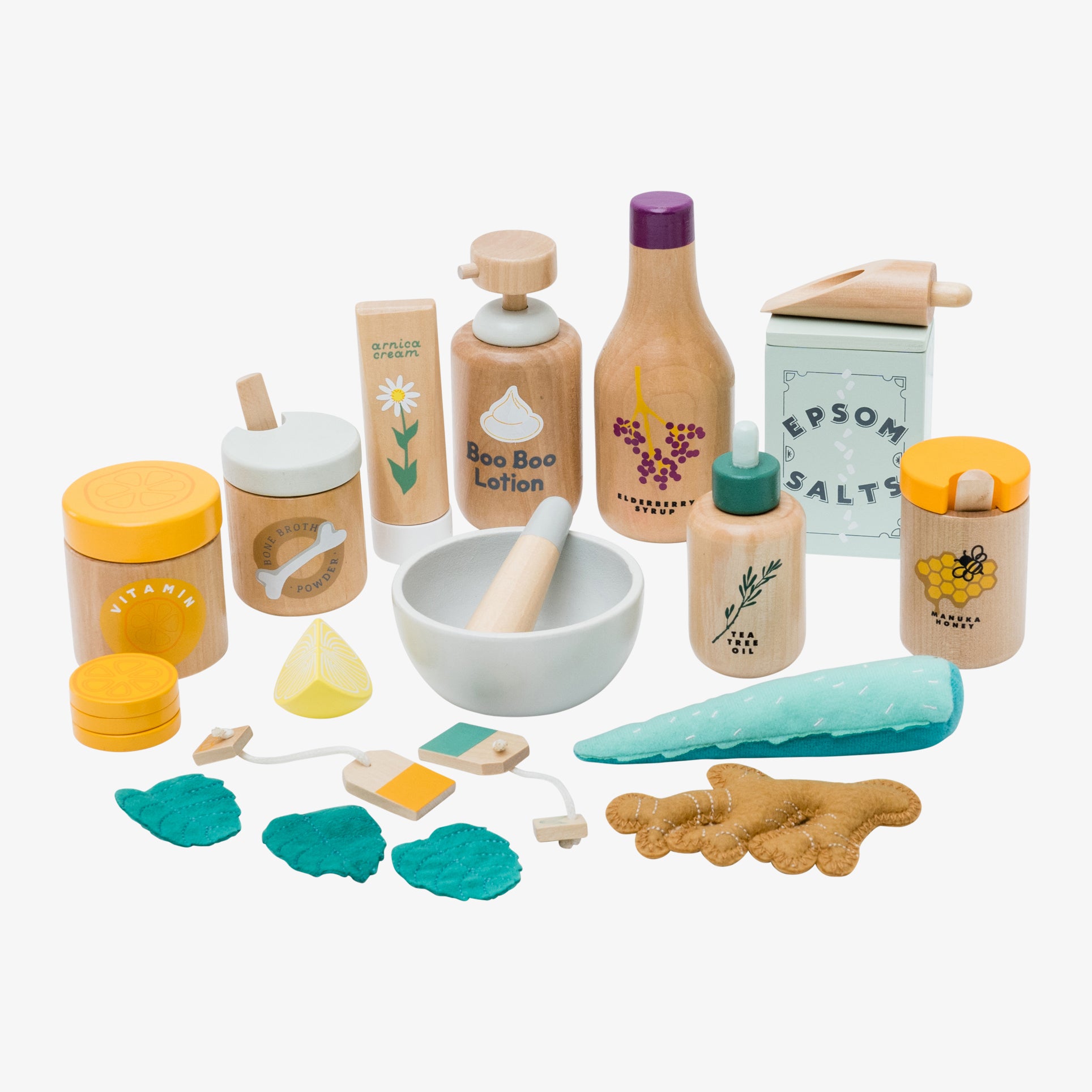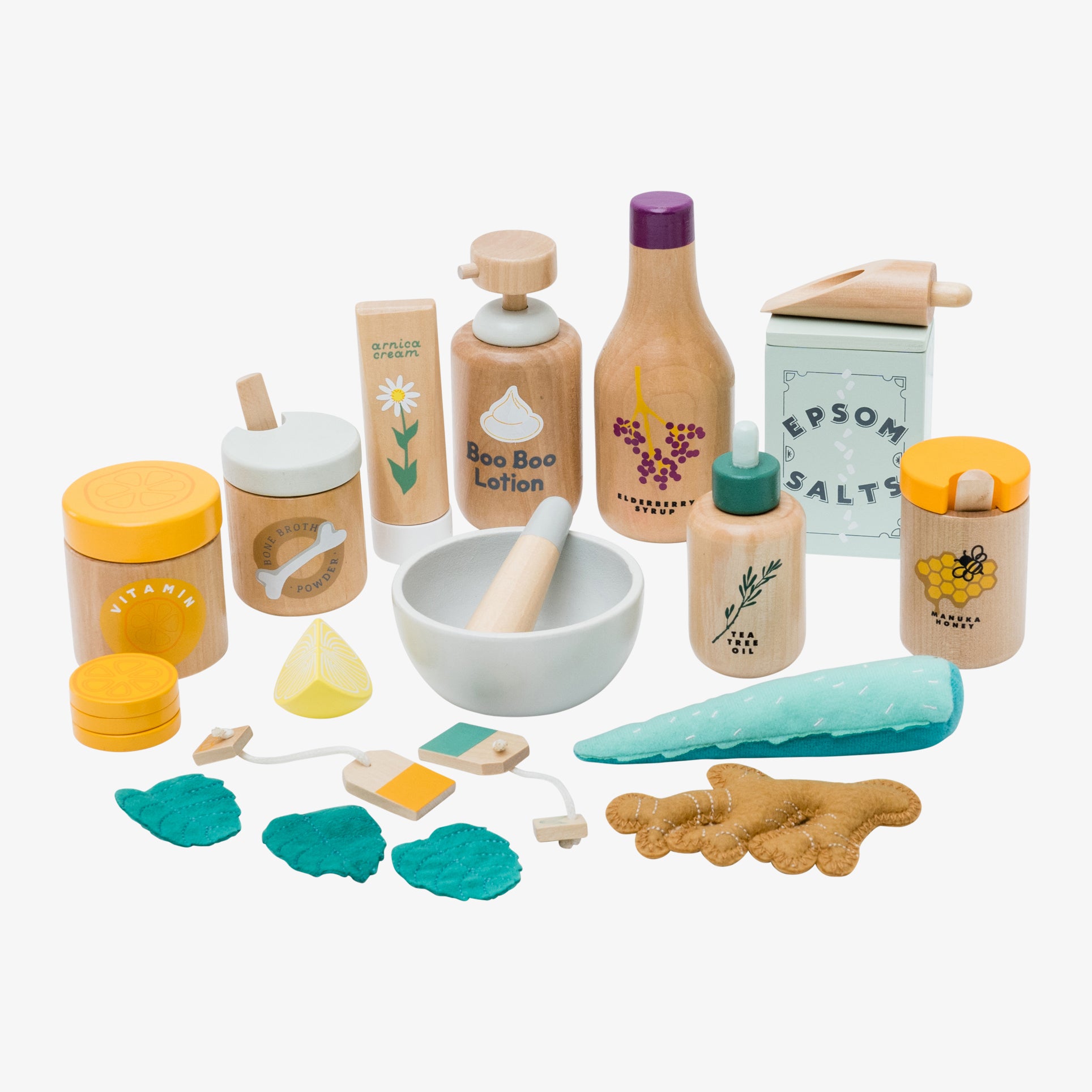 ICONIC TOY - NATURAL HEALER KIT
Looking after the little scrapes and bruises that come from a day's adventuring can be simple as a trip to the garden or the kitchen cupboard if you have your favourite natural products well stocked. Healing can entail different things in families that might have a more natural-minded, holistic view of life. Sometimes those aching muscles, scraped shins and energetic little bodies need only the simple things. Soothe Teddy's bruises with Arnica Cream, keep your Dolly healthy with Vitamin C or help Bunny's cold with Bone Broth soup. Practice at home what you preach to your own family.
This fantastic role play kit will make a wonderful accompaniment to your kids' play time by adding a more nature-based element to the standard doctor kit. It promotes imaginative play while encouraging nurturing behaviour, empathy, and an appreciation for healthy living lifestyle. All pieces are child sized and made of wood or felt which hold-up better over time.
Ages 3 years +
Complete with wooden Bone Broth Jar, Spoon & Lid, Manuka Honey Jar, Spoon & Lid, Epsom Salts Box with Scoop, Elderberry Syrup Bottle, 'Boo Boo Lotion' Pump Bottle, Tea Tree Oil Jar with Dropper, Vitamin C Jar plus three Vitamin C Pills, Arnica Cream Tube & Lid, Pestle & Mortar, 2 x Tea Bags, Lemon Wedge plus play felt Ginger, Mint Leaf, Garlic Bulb and Aloe Vera Stem
25cm (L) x 10cm (W) Box
Designed to comply with Australian & New Zealand toy standards with non-toxic paint. This toy also meets the European & American safety standards.
Comes packaged in a beautiful cardboard box NOT to be used with water or any liquid which is standard for any wooden toy.
This is a pretend play toy only.
Shipping is FREE on AUS orders over $100. Yay! - Standard shipping Australia-wide is $15 - International Shipping is calculated at checkout Click here for further information.
Note: these shipping charges applies only to our online retail customers only (not wholesale accounts)