Outdoor family adventures with our toys & and the Boho rise ⭐ of @romydrew!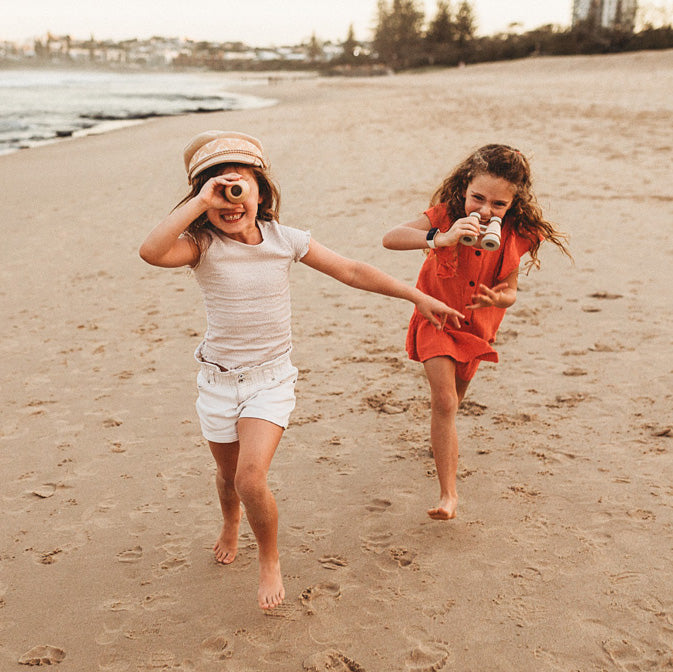 Outdoor Family Adventures
School holiday's are perfect for getting outdoors with your family. There are so many great times to be had and memories to be made. Make the most of the last of the warm Autumn days before we head into Winter. Kids always love exploring for treasures, burning off some excess energy and you get to relax, unwind and recharge your batteries in the fresh air. We sure love these amazing images by @romydrew. She is a mama, a damm fine picture taker and her pictures just make our jaw drop. Scroll down below to read more about the fabulous Romy.
And check out some beach adventure ideas below...
Disclaimer - We really love outdoor play and although we encourage you to take out toys into nature and explore - we do not recommend to put water on any of our wooden toys.... so be careful and take extra care when playing outdoors to ensure your iconic goodies will last for many years to come as they were intended.
Shop Loose Change Toys
Take some Loose Change Toys on your Adventures in the Great Outdoors. They add so much fun to your play! 
Lovin' These Dreamy Pics?
We sure love these amazing images by @romydrew. She is a mama, a damm fine picture taker and terrible decision maker according to her Insta bio. Romy's pictures just make our jaw drop. Her beautiful images look so natural and effortless of real people and everyday life. Ahhh the warm tones, the dreamy moods, the natural colours, that bobo vibe - she is one of our fave picture takers - we just can't get enough!
Head to her beautiful IG stream  @romydrew to get more boho inspiration and love...Every shot is just exquisite and captures everyday life in the most beautiful way. 
We think Romy is going places with her self-taught photography skills. I mean, this girl really knows how to point and shoot! Romy shoots for families and businesses that she loves and we feel truly treasured to be part of that. It's like meeting your favorite super star and they happily take a photo of you, of me, of my stuff! Like YIKES! She really did take those beautiful photos of my toys! We feel chuffed to work with someone so talented, kind and helpful. Thanks Romy for just being you.
In case you haven't noticed  - yet - but we have a huge girl/photography skill crush on Romy and we are happy to be just a little bit part of her rise to stardom!
You can find Romy at @romydrew