new iconic doll nurturing kit 👶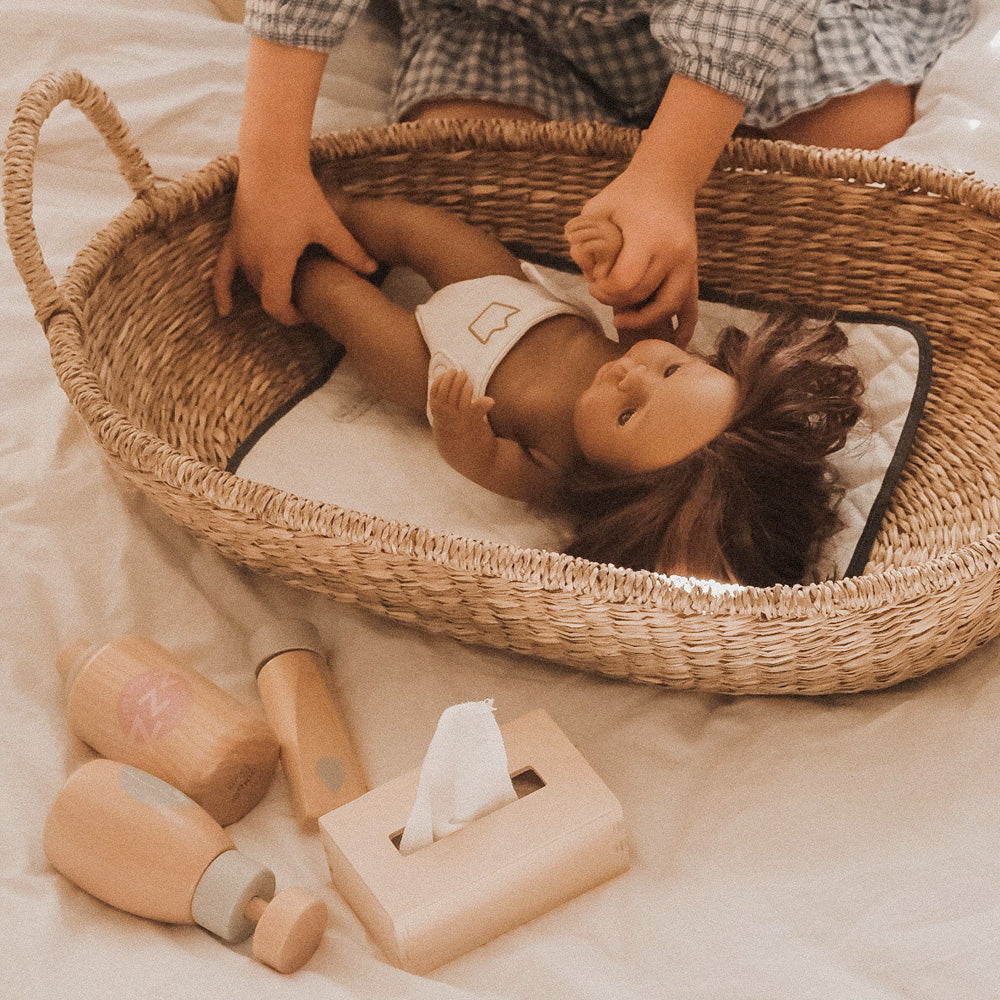 Our Iconic Doll Nurturing Kit provides a beautiful set of accessories for your little one's imaginative play. 
With all the things a mini-parent needs to encourage their favourite doll to toilet train at home. Watch them grow their nurturing, empathetic traits as they take care of their dolly and share play-time roles amongst siblings and friends. Made with gorgeous natural timber and soft, neutral-toned fabrics, this kit can be mixed and matched with our Iconic Doll Accessories Kit to extend their play even more. 
This timeless 13-piece wooden accessories kit is great for imaginative play with your favourite dolls or toys.
Each Doll Nurturing Kit comes with two soft fabric Velcro attaching nappies that fit most Miniland dolls and other dolls you might have at home. Although we tried to make a generous fit with our nappies, please note this nappy will not fit "every" doll or teddy you might have at home. We have simply tried to just have a general sized nappy that fits most dolls. 
We have also included a simple fabric change mat with our set that fits into most doll baskets and change baskets. We have kept our fabric soft and simple so that it's neutral for both boys & girls to use. 
Comes complete with...
This Doll Nurturing Kit will make a wonderful accompaniment to your little one's play time by adding a baby nurturing element to their open-ended play. It promotes imaginative play while encouraging nurturing behavior, empathy and an appreciation for caring for a babies needs.
All pieces are child sized and made of wood, fabric and felt.
Don't forget to wash your hands or dollies hands after changing nappies! Use our wooden pump bottle for pretend hand sanitizer or cleansing cream. 
Our unique Doll Nurturing kit also comes with a wooden box and 3 fabric wipes to use for pretend play when changing dollies nappy. These wipes van also be used for wiping little spills on dollies face too. 
Our Sleep Spray with little pump nozzle is also a nice touch. Sooth doll or teddy back to sleep with a few pumps of some soothing sleep spray. Just like how mummy does at home. 
All images by @mytribe___
For more imaginative play...
Team our Iconic Doll Nurtures Kit up with our Iconic Dolls Accessories Kit to extend your play even further. 
Kids are so good at letting the imagination take over. Their worlds come alive as dolls become besties and nooks become castles. Boys and girls both love to act like grown ups in a good old fashioned game of 'Mums and Dads'. And if a real Mum or Dad or big brothers and sisters join in the fun, guess who gets to call the shots?
Enhance their play time with our beautiful wooden iconic doll accessories kit. It has everything a (pretend) bub could need as your little one immerses them self in creative play. They can feed, entertain and soothe baby, brush their hair and get them ready for the adventures they've planned for the day. 11 Piece wooden accessories kit for imaginative play with your favourite dolls or toys.