Autumn Glamping 🏕️ in the Great Australian Outdoors!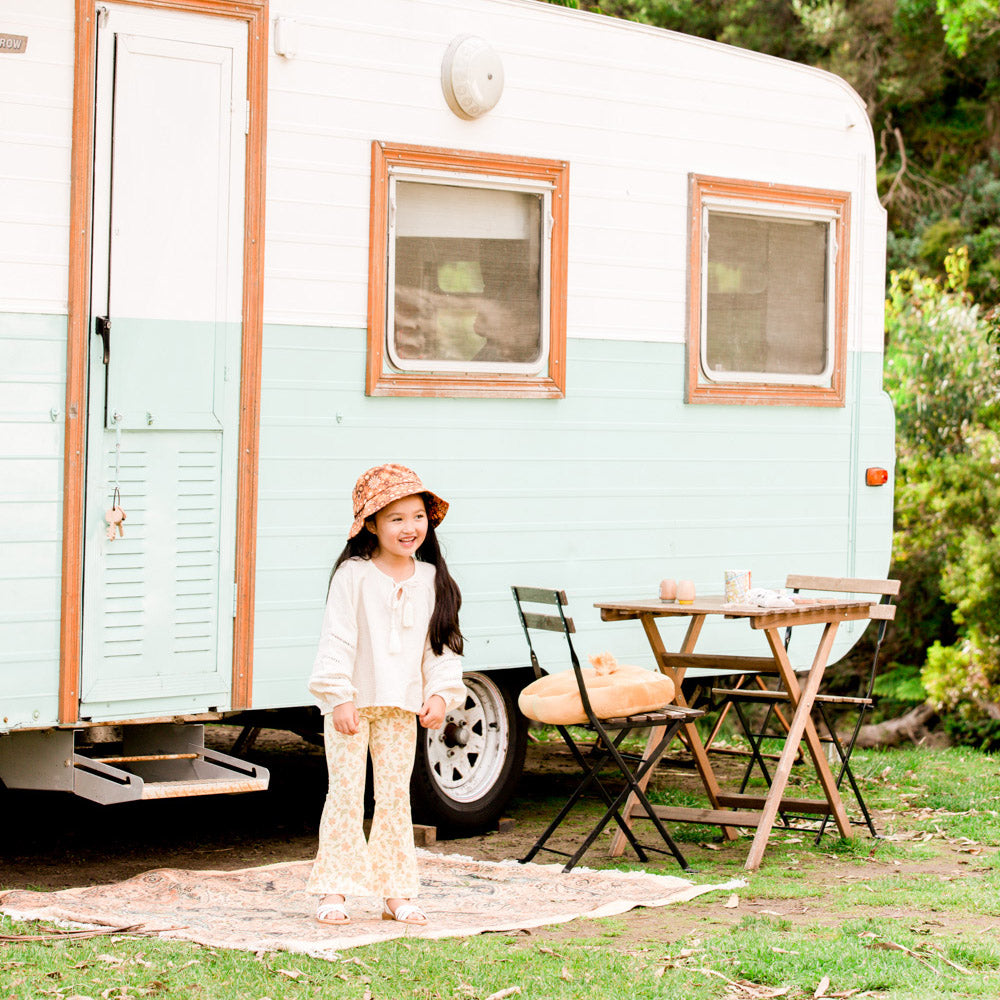 With the weather cooling down it's a great time to plan a fun caravan or glamping adventure. Embrace the cooler weather and set up for a day of play outside, in nature. With some warm clothing and some favourite toys, you can create hours of play with your kids, creating memories and family traditions you'll all cherish. Check out all the fun and inspiration pictures below...
We all try to reduce our screen time when we are away on holidays. Afterall, it's about being outdoors in the fresh air and of course family time. Pack some fun toys and games which your kids will enjoy and save them as a special surprise for when you are away. While the weather is not too cold just yet it' s a great time to have a long weekend away. 
Enjoy some fresh baked cookies and a hot cup of tea outdoors on the picnic bench. Go for a walk and then plan some quick games like Dominoes which you can enjoy while you are resting up. 
While you are cooking the burgers and snag on the BBQ it might be a good idea to bring out this fun play set that is new. It has all the Aussie foods that you love to eat. MMM-mmm, you can almost smell the sausages sizzling on the barbie! It's finally lunch time with our iconic Aussie Munchies set, and what will your order be today? A sausage sandwich (tomato sauce of course) a serve of hot chips, or a good old fashioned burger with the lot? Finished off with your favourite Aussie treat, and you've just experienced a classic Australian feed. Made from beautiful wood and featuring soft fabric extras, this munchies set is all about celebrating the quirky treats that we love the most. It's perfect for a long day of imaginative play in your cosy Caravan.
Now the time is again to kick back and relax and pull out that Craft Kit you were saving for when the weather was a little colder. The snail-mail lovers will love this wood-based craft kit. It includes all the bits and pieces you need for an engaging crafternoon with your kids. Start by decorating your own postcards and envelopes, then add the clipboard, receipts and parcel slips for hours of post-office play with friends. Designed for play with our Iconic Post Box, but just as fun when all you have is your imagination!
You know you are a Aussie Kid when you eat Weet-Bix for breekie or if you know what it means to say "it's going straight to the pool room". To be an Aussie Kid you have to have the real Aussie stuff. So we felt every Aussie Kid should have a set of rare Aussie wood vehicles in their home. We usually get stuck with the London Bus or New York Taxi versions of toy cars So dream of being an Aussie Fire Fighter, or a Aussie Police Officer, or the local happy-go-lucky Posty. Any profession that involves wheels and the need to get somewhere quick to save the day. Or enjoy the simple daydreams about rolling down to the beach in an Aussie Ute to check the waves. Whatever they're into, your little ones have hours of fun ahead of them with our iconic Aussie wooden toy vehicle set. Our take on the timeless game of cars includes some of the funnest machines on the road, from the iconic Holden Sandman Panel Van to the trusty little retro-orange Ute, to the Big Red Fire Truck (not the British one!). Made from wood and made for endless imaginative play with their mates. Complete with Cityscape packaging to extend their play.
It is always tea time on holidays and why not bring your own mugs when you go Glamping. This Melway mug makes things a bit more posh. $2.50 was expensive for a map book when the first edition of the Melway was released in 1966. And 39 editions later, as Melbourne has continued its sprawl, the Melway has grown right along with it. At the time it was the most popular map book on the market before GPS maps on your phone. Dubbed "the Melways" by the Melbournians who used them, back in the day somehow these books had made it into the glove box, boot or backseat of almost every car in the city. Spot more icons at 44 C10 MCG, 43 H9 Flinders Street, 44 D12 Nylex Sign and 44 H7 Skipping Girl sign. Each mug has an amazing overall print of the Melway map including the handle. Try and spot your favourite locations in Melbourne (pleasant reading while you are having a break). 
your adventure awaits

To add more fun to your next outdoors adventure, shop all our fave best selling iconic toys below...